Welcome to the Guzmán Farm-to-Cell research group! Our research team is passionate about plant chemistry and physiology. We are a group of plant biologists with expertise in plant photosynthesis, plant metabolism, medicinal chemistry, and biochemistry. Our goal is to understand how plant physiology and chemistry are involved in making the foods we eat medicinal. We are specifically interested in foods and native plants from the Chihuahuan desert.
Research in the group includes addressing the effects of abiotic and biotic stress on locally grown fruits and vegetables and also understanding how plants produce medicinal and nutraceutical compounds that the human body absorbs through the digestive tract.
SHOUT OUT
This month, the shout out goes to Adam Hopper for being admitted to 2 doctoral programs with full funded offers. Will it be Texas A&M or the University of Maryland?!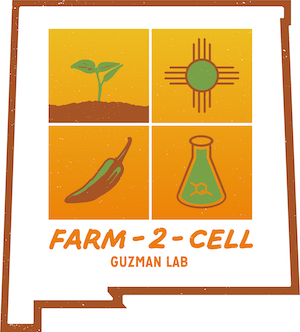 ---
Updates
-Congratulations to Maria Alvarez Zavala who was awarded the 2021 GCA Montine M. Freeman Scholarship in Native Plant Studies. This award provides support for Maria's research on prickly pear. Great Job!
-Congratulations to Skyler Stinson who was awarded an AMP scholarship to study tannins in New Mexico crops.
-NMSU Research and Creativity winner! Adam Hopper won the 3rd place in Agriculture research presentations. Congratulations!
-A National Science Foundation Graduate Fellowship was awarded to Maria Alvarez Zavala, MS student working on medicinal foods and glyphosate residues. Amazing!
-Huge Congratulations to Calen McKenzie, Krystal Vargas, and Cisco Chacon on their graduations.
Calen McKenzie graduated with a Masters Degree and was quickly hired as a scientist at Rio Grande Analytics.
Krystal Vargas graduated with a Bachelors of Science in Agriculture and majored in Horticulture. She accepted an offer to join the Masters program at Colorado State University.
Cisco Chacon graduated with a Bachelors of Science in Agriculture and double majored, Genetics & Biotechnology and Biology. He accepted a PhD position offer at Penn State in the Plant Biology program.