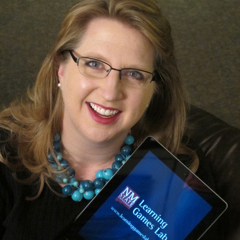 Extension Instructional Design and Educational Media Specialist
Professor
Department Head, Department of Innovative Media Research & Extension
Director, Learning Games Lab
New Mexico State University
---
My interests include educational game design, implementation of technology into informal learning programs (such as after-school programs and 4-H), and the use of technology in the Cooperative Extension Service. I'm especially interested in math, science, and other STEM fields.
Though my faculty appointment does not specifically include teaching, I've developed two special topics classes: "Educational Game Development" and "Applied Technology in the Workplace" - both of which are tied to my outreach objectives
---
The Learning Games Lab is a research space where we can test games we develop, analyze and observe kids playing other games, and better understand what makes games fun for each audience so that we can integrate those elements into our own educational games. We're currently researching our own assessment strategies, including iPad-based design work, giving users time in the "video closet," and developing their evaluation skills.
My professional experience is in multimedia development. Today this means creating games, apps, and interactive websites. Previously, it meant CD-ROMs and touch-screen kiosks. Our development studio has been developing interactive media and games for 20 years... even before the Web was commonplace and before school computers had CD-ROM drives.
My doctorate is in instructional technology through the University of Virginia's Curry School of Education. While at UVA, I worked on several projects, including educational games. One of the sites served as the basis for my dissertation on creating entertaining games with educational content. While getting my doctorate, I continued my work in integrating technology into K-12 and informal education through my work with schools in Bermuda, and with the Virginia Discovery Museum.
---
Barbara Chamberlin, Ph.D.
Innovative Media Research & Extension MSC 3AI
New Mexico State University
P.O. Box 30003
Las Cruces, NM 88003-8003
Phone: 575-646-2848
Fax: 575-646-4275
Email: bchamber@nmsu.edu