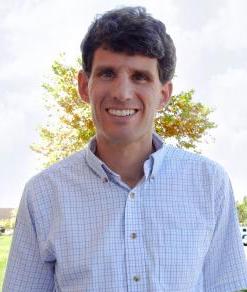 Title: Associate Professor
Research Area: Weed Science
Office Location: 945 College Ave MSC 3BE, Skeen Hall N224, Las Cruces, NM, 88003
Laboratory Location: Skeen Hall W241
Email Address: bschutte@nmsu.edu
Office Phone: 575-646-7082
Education
BA in Botany & Political Science, Miami University, 1999
MSc in Horticulture and Crop Science, The Ohio State University, 2002
PhD in Horticulture and Crop Science, The Ohio State University, 2007
Work Experience
Post-doctoral Research Ecologist, USDA-ARS Global Change and Photosynthesis Research Unit, Urbana, IL
Teaching
Fall Semester:
Introduction to Weed Science (EPWS/AGRO 311/511)

Scientific Writing: How to be a Productive and Effective Writer (EPWS/AGRO/HORT/SOIL 525; AGRO/HORT/SOIL 625)
Spring Semester:
Plant Physiology (EPWS/BIOL 314/514)
Research Interest
The goal of my research program is to develop weed management strategies that are applicable and appropriate for agricultural systems in the southwestern United States. To accomplish this goal, my students and I study weed and crop responses to combinations of tactics including herbicides and cultural practices. Through diversification, we aim to make weed management programs more reliable, more cost-effective in the long-term, and less threatening to non-target organisms.
Highlights from Specific Projects
New herbicides for specialty crops. Chile pepper and onion have few herbicide options compared to other crops commonly grown in New Mexico. To increase the number of herbicides available for chile pepper and onion, we conduct studies that support local registrations for new herbicides. Our goal is to identify herbicides with greater efficacy, lower cost, and lower risk to the environment than currently registered herbicides. For more information on a preliminary project that guided current herbicide studies in onion, please click here.

Weed seedbank management. For many weed species, reserves of seeds in soil (i.e., seedbanks) enable population persistence and increase management costs. Accordingly, tactics that target seedbanks are critical components of successful weed management programs. To communicate the importance of weed seedbank management, we developed an interactive, educational model that allows farmers and consultants to better understand ecological and economic implications of weed seeds in New Mexico chile pepper production. The educational model can be found in the .zip file below.
Publications
Agarwal, P., B. J. Schutte, O. J. Idowu, R. L. Steiner, E. A. Lehnhoff. 2022. Weed suppression versus water use: Efficacy of cover crops in water limited agroecosystems. Weed Research 62:24-37
Schutte, B. J., A. Rashid, I. Marquez, E. A. Lehnhoff, L. L. Beck. 2021. Seaside petunia (Calibrachoa parviflora) susceptibility to herbicides used in dry bulb onion. HortTechnology 31:679-687
Nagila, A., B. J. Schutte, S. Sanogo, O. J. Idowu. 2021. Chile pepper sensitivity to mustard seed meal applied after crop emergence. HortScience 56:254-260
Schutte, B. J., A. D. Sanchez, L. L. Beck, O. J. Idowu. 2021. False seedbeds reduce labor requirements for weeding in chile pepper. HortTechnology 31:64-73
Wood, J. B., B. J. Schutte, I. Guzman, S. Sanogo. 2020. Water availability influences the inhibitory effects of mustard seed meal on Palmer Amaranth (Amaranthus palmeri) and Verticillium dahliae. Weed Technology 34:756-763
Bagavathiannan, M., H. J. Beckie, G. R. Chantre, J. L. Gonzalez-Andujar, R. G. Leon, P. Neve, S. L. Poggio, B. J. Schutte, G. J. Somerville, R. Werle, R. Van Acker. 2020. Simulation models in weed ecology and management: structure, quantitative insights, and applications. Agronomy 10(10), 1611
Kankarla, V., M. Shukla, G. Picchioni, D. VanLeeuwen, B. J. Schutte. 2020. Germination and emergence responses of alfalfa, triticale and quinoa irrigated with brackish groundwater and desalination concentrate. Agronomy 10(4), 549
Ali, A. B., M. Shukla, B. J. Schutte, C. Gard. 2020. Irrigation with RO concentrate and brackish groundwater impacts on pecan tree growth and physiology. Agricultural Water Management 240:106328
Schutte, B. J., A. Rashid, J. B. Wood, I. Marquez. 2020. Colorimetric assay for detecting mechanical damage to weed seeds. Weed Technology 34: 454-460
Picchioni, G.A., T. N. Hooks, B. J. Schutte, M. K. Shukla, D. L. Daniel. 2020. Halophyte ion regulation traits support saline adaptation of Lepidium latifolium, L. draba, and L. alyssoides. Plant Ecology 221:295-308
Antosh, E., J. Idowu, B. Schutte, E. Lehnhoff. 2020. Winter cover crop effects on soil properties and sweet corn yield in semi-arid irrigated systems. Agronomy Journal 112:92-106
Elias, E. H., R. Flynn, J. Idowu, J. Reyes, S. Sanogo, B. J. Schutte, R. Smith, C. Steele, C. Sutherland. 2019. Crop vulnerability to weather and climate risk: Analysis of interacting systems and adaptation efficacy for sustainable crop production. Sustainability 11(23)
Kankarla, V., M.K. Shukla, D. VanLeeuwen, B. J. Schutte, G.A. Picchioni. 2019. Growth, evapotranspiration, and ion uptake characteristics of alfalfa and triticale irrigated with brackish groundwater and desalination concentrate. Agronomy 9(12) 789
Murray, L., B. J. Schutte, C. Sutherland, L. Beck, A. Ganguli, E. A. Lehnhoff. 2019. Integrating conventional management methods with biological control for enhanced tamarix management. Invasive Plant Science and Management 12:176-185
Murray, L., B. J. Schutte, A. C. Ganguli, E. A. Lehnhoff. 2019. Impacts of Tamarix (L.) litter and mycorrhizal amendments on Baccharis salicifolia (Ruiz & Pav.) Pers. competitiveness and mycorrhizal colonization. Agronomy 9, 453
Schutte, B. J., E. A. Lehnhoff, L. L. Beck. 2019. Evaluation of POST-directed applications of flumioxazin in New Mexico chile pepper. Weed Technology 33:135-141
Schroeder, J., M. Barrett, D. R. Shaw, A. R. Asmus, H. Coble, D. Ervin, R. A. Jussaume, M. D. K. Owen, I. Burke, C. F. Creech, A. S. Culpepper, W. S. Curran, D. M. Dodds, T. A. Gaines, J. L. Gunsolus, B. D. Hanson, P. Jha, A. E. Klodd, A. R. Kniss, R. G. Leon, S. McDonald, D. W. Morishita, B. J. Schutte, C. L. Sprague, P. W. Stahlman, L. E. Steckel, M. J. VanGessel. 2018. Managing wicked herbicide-resistance: lessons from the field. Weed Technology 32:475-488
Schroeder, J., M. Barrett, D. R. Shaw, A. R. Asmus, H. Coble, D. Ervin, R. A. Jussaume, M. D. K. Owen, I. Burke, C. F. Creech, A. S. Culpepper, W. S. Curran, D. M. Dodds, T. A. Gaines, J. L. Gunsolus, B. D. Hanson, P. Jha, A. E. Klodd, A. R. Kniss, R. G. Leon, S. McDonald, D. W. Morishita, B. J. Schutte, C. L. Sprague, P. W. Stahlman, L. E. Steckel, M. J. VanGessel. 2018. Managing herbicide-resistance: listening to the perspectives of practitioners. Procedures for Conducting Listening Sessions and an Evaluation of the Process. Weed Technology 32:489-497
Hooks, T. N., G. A. Picchioni, B. J. Schutte, M. K. Shukla, D. L. Daniel. 2018. Sodium chloride effects on seed germination, growth, and water use of Lepidium alyssoides, L. draba, and L. latifolium: traits of resistance and implications for invasiveness on saline soils. Rangeland Ecology and Management 71:433-442
Hooks, T. N., G. A. Picchioni, B. J. Schutte, M. K. Shukla, D. L. Daniel, J. Ashigh. 2018. Salinity an environmental "filter" selecting for plant invasiveness? Evidence from the indigenous Lepidium alyssoides on Chihuahuan desert shrublands. Rangeland Ecology and Management 71:106-114
Gonzalez-Delgado, A., M. K. Shukla, B. J. Schutte. 2017. Effects of indaziflam application and soil manipulation on pecan evapotranspiration and gas exchange parameters. HortScience 52:910-915
Klypina, N., M. Pinch, B. J. Schutte, J. Maruthavanan, T. M. Sterling. 2017. Water-deficit stress tolerance differs between two locoweed genera (Astragalus and Oxytropis) with fungal endophytes. Weed Science 65:626-638
Landau, C. A., B. J. Schutte, A. O. Mesbah, S. V. Angadi. 2017. Flixweed (Descuraina sophia) shade tolerance and possibilities for flixweed management using rapeseed seeding rate. Weed Technology 31:477-486
Flores, A. M., M. K. Shukla, B. J. Schutte, G. A. Picchioni, D. L. Daniel. 2017. Physiologic response of six plant species grown in two contrasting soils and irrigated brackish groundwater and RO concentrate. Arid Land Research and Management 31:182-203
Schutte, B. J. 2017. Measuring interference from mid-season tall morningglory to develop a model for teaching weed seedbank effects on chile pepper. Weed Technology 31:155-164
Singla, S., K. Grover, S. V. Angadi, B. J. Schutte, D. VanLeeuwen. 2016. Guar stand establishment, physiology, and yield responses to planting date in southern New Mexico. Agronomy Journal 108:2289-2300
Davis, A. S., X. Fu, B. J. Schutte, M. A. Berhow, J. W. Dalling. 2016. Interspecific variation in persistence of buried weed seeds follows trade-offs among physiological, chemical and physical seed defences. Journal of Applied Ecology 6:6836-6845
Schutte, B. J., N. Klypin, M. K. Shukla. 2016. Influence of irrigation timing on disturbance-induced reductions in soil seedbank density. Weed Science 64:613-623
Flores, A. M., M. K. Shukla, D. Daniel, A. L. Ulery, B. J. Schutte, G. A. Picchioni, S. Fernald. 2016. Evapotranspiration changes with irrigation using saline groundwater and RO concentrate. Journal of Arid Environments 131:35-45
Regnier, E. E., S. K. Harrison, M. M. Loux, C. Holloman, R. Venkatesh, F. Diekman, R. Taylor, R. A. Ford, D. E. Stoltenberg, R. G. Hartzler, A. S. Davis, B. J. Schutte, J. Cardina, K. J. Mahoney, W. G. Johnson. 2016. Certified crop advisors' perceptions of giant ragweed (Ambrosia trifida) distribution, herbicide resistance and management in the Corn Belt. Weed Science 64:361-377
Evans, J. A., P. J. Tranel, A. G. Hager, B. J. Schutte, C. Wu, L. A. Chatham, A. S. Davis. 2016. Managing the evolution of herbicide resistance. Pest Management Science 72:74-80
Flores, A. M., B. J. Schutte, M. K. Shukla, G. A. Picchioni, A. L. Ulery. 2015. Time-integrated measurements of seed germination for salt-tolerant plant species. Seed Science and Technology 43: 541-547
Schutte B. J., A. E. Cunningham. 2015. Tall morningglory (Ipomoea purpurea) seedbank density effects on pendimethalin control outcomes. Weed Technology 29:844-853
Davis, A. S., B. J. Schutte, A. G. Hager, B. G. Young. 2015. Palmer amaranth (Amaranthus palmeri) damage niche in Illinois soybean is seed-limited. Weed Science 63:658-668
Schutte, B. J., L. Lauriault. 2015. Nutritive value of field bindweed (Convolvulus arvensis) roots as a potential livestock feed and the effect of Aceria malherbae on root components. Weed Technology 29:329-334
Schutte, B. J., A. S. Davis, S. A. Peinado, J. Ashigh. 2014. Seed coat thickness data clarifies seed size-seed bank persistence trade-offs in Abutilon theophrasti (Malvaceae). Seed Science Research 24:119-131
Schutte, B. J., A. S. Davis. 2014. Do common waterhemp (Amaranthus rudis) seedling emergence patterns meet criteria for herbicide resistance simulation modeling? Weed Technology 28:408-417
Schutte, B. J., B. J. Tomasek, A. S. Davis, L. Andersson, D. L. Benoit, A. Cirujeda, J. Dekker, F. Forcella, J. L. Gonzalez-Andujar, F. Graziani, A. J. Murdoch, P. Neve, I. A. Rasmussen, B. Sera, J. Salonen, F. Tei, K. S. Torresen, J. M. Urbano. 2014. An investigation to enhance understanding of the stimulation of weed seedling emergence by soil disturbance. Weed Research 54:1-12
Wortman, S. E., A. S. Davis, B. J. Schutte, J. L. Lindquist, J. Cardina, J. Felix, C. Sprague, A. Dille, A., Ramirez, G. Reicks, S. A. Clay. 2012. Local conditions, not spatial gradients, drive demographic variation of Ambrosia trifida and Helianthus annuus across northern U.S. maize belt. Weed Science 60:440-450
Matlaga, D. P., B. J. Schutte, A. S. Davis. 2012. Age-dependent vital rates of the bioenergy crop Miscanthus x giganteus in Illinois. Invasive Plant Science & Management 5:238-248
Williams II, M. M., B. J. Schutte, Y. So. 2012. Maternal corn environment influences wild proso millet (Panicum miliaceum) seed characteristics. Weed Science 60:69-74
Schutte, B. J., E. E. Regnier, S. K. Harrison. 2012. Seed dormancy and adaptive seedling emergence timing in giant ragweed (Ambrosia trifida). Weed Science 60:19-26
Wortman, S. E., A. S. Davis, B. J. Schutte, J. L. Lindquist. 2011. Integrating management of soil nitrogen and weeds. Weed Science 59:162-170
Dalling, J. W., A. S. Davis, B. J. Schutte, and A. E. Arnold. 2011. A framework for a seed defence theory: integrating predation, dormancy and the soil microbial community. Journal of Ecology 99:89-95
Davis, A. S., D. Daedlow, B. J .Schutte, P. R. Westerman. 2011. Temporal scaling of episodic point estimates of weed seed predation to long-term predation rates. Methods in Ecology and Evolution 2:682-690
Schutte, B. J., A. G. Hager and A. S. Davis. 2010. Repeat applications of glyphosate on custom applied, glyphosate-resistant soybeans in Illinois: how many and why. Weed Technology 24:590-598
Schutte, B. J., E. R. Haramoto and A. S. Davis. 2010. Methods for optimizing seed mortality experiments. Weed Technology 24:599-606
Schutte, B. J., J. Liu, A. S. Davis, S. K. Harrison and E. E. Regnier. 2010. Environmental factors that influence the association of an earthworm (Lumbricus terrestris L.) and an annual weed (Ambrosia trifida L.) in no-till agricultural fields across the eastern U.S. Corn Belt. Agriculture, Ecosystems and Environment 138:197-205
Schutte, B. J., A. S. Davis, K. A. Renner and J. Cardina. 2008. Maternal and burial environment effects on seed mortality of velvetleaf (Abutilon theophrasti) and giant foxtail (Setaria faberi). Weed Science 56:834-840
Schutte, B. J., E. E. Regnier and S. K. Harrison. 2008. The association between seed size and seed longevity among maternal families in Ambrosia trifida L. populations. Seed Science Research 18:201-211
Davis, A. S., B. J. Schutte, J. Iannuzzi and K. A. Renner. 2008. Chemical and physical defenses of weed seeds in relation to soil seedbank persistence. Weed Science 56:676-684
Schutte, B. J., E. E. Regnier, S. K. Harrison, J. T. Schmoll, K. Spokas, F. Forcella. 2008. A hydrothermal seedling emergence model for giant ragweed (Ambrosia trifida). Weed Science 56:555-560
Schutte, B. and M. Knee. 2005. The effects of rudimentary embryos and elevated oxygen on seed dormancy of Eryngium yuccifolium Michx. (Apiaceae). Seed Science and Technology 33:53-62